Radio komunikacijska oprema Kenwood
Communications Equipment Business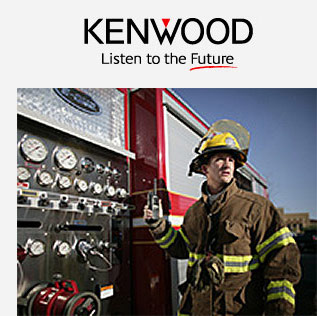 Since its foundation, Kenwood has operated the Communications Equipment business using the high-frequency technology, developing proprietary techniques and high know-how in the field of "wireless communication", which is not included in the Car Electronics and Home Electronics businesses. Kenwood has increased its market share of Land Mobile Radio equipment, becoming the world's second largest supplier. To achieve this, Kenwood has speedily complied not only with various countries' laws and regulations on radio waves but also with digitization of radio equipment, which requires cutting-edge technologies. Kenwood has supplied radio systems that require extremely high reliability, privacy and security, durability and operability to the Team Vodafone McLaren Mercedes of Formula One (F1) world championship race as an official supplier for 17 years.
Kenwood now focuses on the business of wireless radio equipment, including primarily Land Mobile Radio equipments as well as amateur wireless radios and specially-designated low power transceivers. Kenwood has expanded businesses in the U.S., the largest market for Kenwood, by enhancing the cooperative system of marketing, sales, development and production, as well as in Europe by strengthening sales and applied technology functions. We have also boosted sales activities in Russia and Asia, particularly China, where growth is spectacular, as well as emerging markets which are projected to grow, including East Europe, the Middle East, Latin America and Africa. Furthermore, we have launched the production of Land Mobile Radio equipment at our Shanghai Plant, in anticipation of an expansion of our business and growth of the Chinese market.
In response to the digitization of the wireless communication system in the Land Mobile Radio field, Kenwood completed the introduction of the digital wireless radio system for use in F1 world championship race and the commercialization of Digital Land Mobile Radio equipment in compliance with P25 (Digital Land Mobile Radio system for public safety institutions such as police and fire departments) of the U.S.
Meanwhile, Kenwood is focusing on business expansion through business alliances and M&As. As part of this, we acquired the wireless radio operations of Toyo Communication Equipment Co., Ltd. (then) in June 2004. With this acquisition, we were able to secure in Japan a dominant presence in the wireless radio market where we can now supply a large number of products to public agencies and power utilities through excellent sales networks; and huge resources and technologies relating to radio equipment operations. And we are now striving to expand the radio equipment business in the domestic market. We have also started making full-scale efforts for the establishment of standards for digital radio systems for business & industry sector and the sales expansion of digital radio equipments, under business alliances with Icom Inc., the EADS Group, the leading European aerospace and defense entity, and European radio-related companies. In May 2007, we converted Zetron, Inc., a U.S. systems-based communication company, into our subsidiary. We are qualitatively expanding the wireless radio equipment business from a supplier of radio terminals to a provider of system solutions in order to build a foundation from which to make a new leap in this business.